Exhibitions
Sala d'Exposicions
at street level under the gothic stairs to access the Library
Place: Sala d'Exposicions
Start date: 23/04/2022 End date: 02/07/2022
Timetable: De dimarts a divendres d'11 a 15 h i de 17 a 20 h. Dissabtes de 10 a 14 h.
Ara fa cinquanta anys, el 1972, naixia un detectiu de novel·la negra que tindria una extraordinària fortuna literària, PepeCarvalho. La seva aparició es produeix en una novel·l...
Espai Zero
located at the lobby of the Library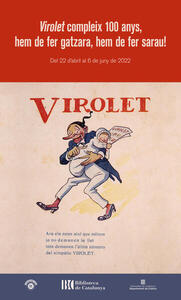 Place: Espai Zero
Start date: 22/04/2022 End date: 06/06/2022
Timetable: De dilluns a divendres de 9 a 20 h. Dissabtes de 10 a 14 h
El 7 de gener de 1922 arribava al món el Virolet. "Un noi bellugadís i alegre, que no s'està mai quiet". Aquest era el subtítol de la revista que naixia com a suplement setmana...
Altres espais